Somebody actually went and ran the
stats on Playboy Playmates of the 20th Century
(well, the latter half, since Playboy started in the '50s.). Year-by-year as well as all together. And went so far as to break them down into averages.
Honestly, I'm not sure if I'm creeped out more than I'm impressed by all this horny geekiness, but I felt you needed to know this valuable information.
(I'm being snarky, but the truth is, I
did
learn some interesting things which I would like to relay to you now. Don't worry, they're heavily illustrated.)
Thanks to this, I can now tell you that the average Playmate in, say, 1984, had a bust of 36.08, waist of 23.25, hips of 34.33, and was 21.8 years old. She weighed 113 lbs, stood 5' 6.63" and was born on Feb 26, 1962.
This is Karen Velez, who was named Playmate of the Year that year, in spite of the facts that her bust and hips are too big, her waist too small, she's too old, too fat, and too darn tall. God, I just hope she managed to put all that hindrance behind her and still build a career.
And speaking of Playmates of the Year, they breakdown like this: Bust: 35.66. Waist: 23.31. Hips: 35.2. Age: 22. Weight: 118.4. Height: 5' 6" DOB: Jan 08, 1957.
Armed with this information, I am now prepared to say that Patti McGuire (PMOY, 1977) is
the
quintessential Playmate of the Year. Her tits, hips and everything in between are exactly what men (or at least, the
Playboy
editors) want in a woman.
Although...she is a few years too old...and malnourished looking...and let's face it, she's a fucking dwarf. Oh well, nobody's perfect.
But, I hear you asking, what about the averages of every single Playmate from 1953-2000? I'm glad you asked. That particular Goddess has a bust of 35.55, waist: 23.29, hips 34.85, aged 21.7, w. 115.1, stands 5' 6", was born on Sep 20, 1954, and looks like...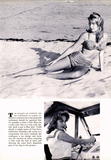 Teddi Smith (above and to the left-click to enlarge), Linda Gamble (below), both from the "class" of 1960.
And Karen Hafter (right), 1976.
Now, to continue in our quest for unattainable perfection, we have to jump ahead to 1998.
That's right, for 20 years, not a single Playmate met the template as established by these deeply invaluable stats.
But that was a good year for Playmates. Over half of the 1998 selections met a majority of the judging ideal. I've chosen Laura Lee Cover, above, to represent them. Even though, y'know, her waist is too small and she's a scrawny little runt.
More facts of interest (maybe):
It was in the 1950's that Playmates had the largest breasts. (In fact, tho you might not expect this, the cup size of Playmates has been getting gradually
smaller
each decade.)
The magazine made its bias known right from the very first issue (in 1953):
And what man wouldn't have been thankful to be given Janet Pilgrim for Xmas, 1955?
This was also when Playmates were the heaviest. Some of these girls weighed as much as 117 pounds. Look at Jacquelyn Prescott, from 1957, here.
Whoa! Make way for the elephant!
Playmates were slimmest around the waist in the '60s, but only slightly. They were also fullest in the hips in that decade. Observe Christa Speck ('61)
BTW, about Speck: You gotta love a girl
who says
her turn-on is Jack Benny. I do, anyway.
And Hedy Scott (1965).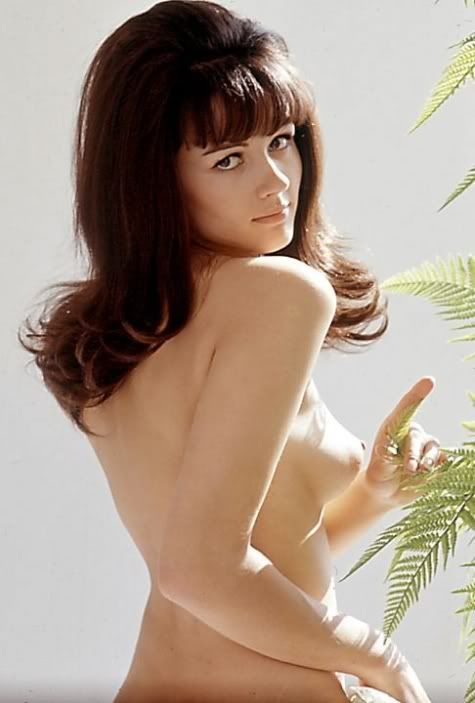 The '70s and '80s were almost identical in Playmate body type. The main variations were, '70s Playmates were a bit more broad in the hips, and heavier, as you can plainly see from Lieko English and Janice Pennington (both 1971)
In the '80s the Playmates were skinnier, but also older. That's why Liz Stewart (1984)), here, is dressed so formally.
And why Hope Marie Carlton ('85) fit so nicely in her wedding dress...or out of it.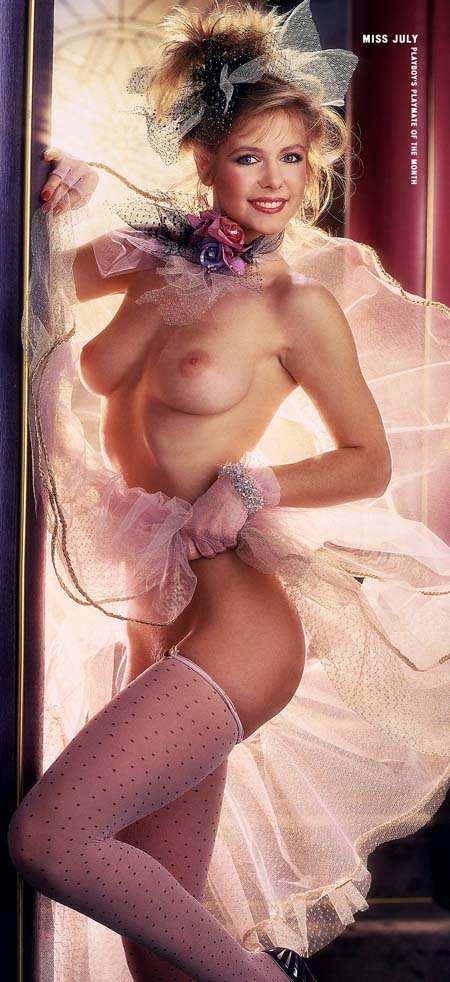 The oldest Playmates were in the '90s. Some of them were more than 22 and 1/2 years old!
Like this old hag, left (Samantha Torres, 1995)
This was also the decade when, to my taste, fake boobs started ruining everything.
Pam Anderson represents both.
She was clearly already past her prime when she posed (for the first time in 1990), and her boobs are as real as Newt Gingrich's concern for Japan.
Playmates were tallest in the year 2000. As witness the Amazon Summer Altice, below.
I think that's also the year when another trend in the way women "keep themselves" I don't much care for kicked in. But unlike fake boobies, shaved pubes can be made right again without risky surgery...